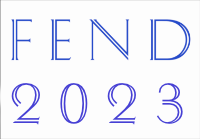 Abstract Submission
Email: abstract2023@fend.org
Closing date for Abstracts:   8 July 2023 
Abstracts received after this date will be automatically rejected.
Failure to follow the instructions on headings and total word count will cause the abstract to be rejected.
Abstract Guidelines

Download / view guidelines (PDF)  Instructions for formatting and submission of abstracts.
Abstract submission form

Download submission form (Word docx)
NOTE You can view examples of abstracts in the Webcast Archives and also previous conference programme books.